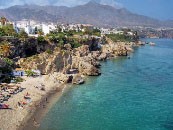 DISCOVERING COSTA DEL SOL: CALAHONDA
Following our series of posts describing the best areas of Costa del Sol, this week we take on to Calahonda…hope you will enjoy!!
CALAHONDA
Until 1963 there was very little that linked the coast between Mijas and Marbella. That was the year that Don José Orbaneja arrived in the area and bought two large estates, one of them from the Van Dulken family, and merged them to create Sitio de Calahonda. Now, Calahonda is a huge and thriving community, home to many nationalities and perfectly situated almost equidistant between Málaga and Marbella in the heart of Mijas Costa, allowing fast and easy road access to all areas in both directions along the coast and also within easy reach of Málaga International Airport.
Calahonda enjoys some of the best views on the Costa del Sol, so it's worth driving, or even walking, to its highest point, known as the Hermitage (La Ermita), which is a little white monument that can be seen from most of the surrounding areas, and which enjoys some spectacular views across the coast to Gibraltar and Africa. La Ermita is in the midst of glorious countryside and, although it now shares its top spot with the beautiful Las Cascadas urbanisation, it still stands proudly watching over Calahonda.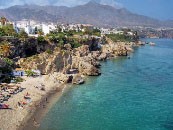 One of the best things about Calahonda is that it's very self-contained, with all the sports and leisure facilities you're ever likely to need, but it's also close to many more in Fuengirola, Málaga and Marbella and so it pays to arrange a Calahonda car hire deal to get around the area easily. Of course, Calahonda has the obligatory beautiful, sun-drenched beaches with their little beach bars and some small but beautiful parks and there's certainly no shortage of sports facilities. Try a relaxed round of golf at the La Siesta Golf Club, a nine-hole, par 3 course or check out the facilities at the magnificent Club del Sol, set in beautiful surroundings with 12 tennis courts, 4 paddle courts and two squash courts. The club offers tuition at all levels and holds regular high-profile tennis championships and it also has a good-sized gym as well as a sauna and jacuzzi. In addition, the popular Miraflores golf and lawn tennis club is nearby and there are plenty of shopping, eating and entertainment opportunities at the El Zoco commercial centre and the smaller shopping area of Las Cipreses.
Every single service the homeowner could want is available in Calahonda and many English-speaking businesses have set up business here, such as locksmiths in Calahonda.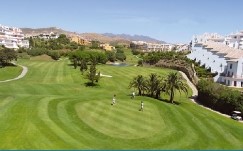 From Calahonda, the world is your oyster. Head east and you'll find the former fishing village of La Cala de Mijas, the cosmopolitan town of Fuengirola and its myriad attractions, Torremolinos and Benalmádena with the water park and Tivoli World and stylish Málaga with its tapas bars and Picasso Museum. You can reach all of these locations within half an hour from Calahonda. Head west for the glitz and glamour of Marbella, the sophisticated Estepona, with its perfect mix of traditional and modern, and onwards to upmarket Sotogrande and its perfect harbour and marina areas, and finally, Gibraltar. Sotogrande and Gibraltar are just over one hour from Calahonda on the fast motorway road. Of course, there's also the option of heading inland from Calahonda; try the exquisitely traditional Mijas Pueblo and the beautiful countryside and countless golf courses surrounding it. There's no end to the list of things to do and see – and they're all easily reachable from Calahonda.
Just as you can head east or west for entertainment, you can do the same for education and healthcare facilities close to Calahonda. There's a wide choice of international, bi-lingual and Spanish schools in both directions from Calahonda. There are schools in Fuengirola (10 minutes drive), Benalmádena and Málaga (20 minutes drive). In the other direction, you'll find excellent international schools in Marbella, such as the English International College (10 minutes from Calahonda), the International College, San Pedro (20 minutes) and Sotogrande International School (50 minutes). This is just a small selection of the schools that are easily reached from Calahonda. There's an equally wide variety of healthcare facilities. Fuengirola has two large, fully-equipped health centres. Benalmádena is home to the new state-of-the-art private Xanit hospital and in Málaga there's a large public hospital, the Carlos Haya. If you prefer to go west, Marbella also has a gleaming public hospital, the Hospital Costa del Sol, with extensive medical facilities and a team of interpreters. Further west in Estepona is another new private hospital, Hospiten. So you'll never be far from the best medical facilities in the area if you're in Calahonda.
For property in Calahonda, why not take a look at the fabulous range of Calahonda property and the surrounding areas that we have currently available. Go to our search page and choose "Mijas Costa" from the areas list to view the relevant properties in Calahonda. Here you can also choose to view properties in nearby Fuengirola, Benalmádena and Málaga, Marbella and Estepona.
Have a great week! Vamos!!
My best wishes and regards from sunny Marbella, southern Spain!!
JC Lazo