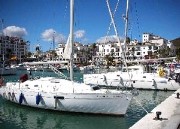 DISCOVERING COSTA DEL SOL: MANILVA
Following our series of posts describing the best areas of Costa del Sol, this week we take on to Manilva…enjoy!!
MANILVA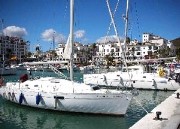 Manilva is at the western end of the Costa del Sol, just on the border of Cádiz province and within easy reach of Sotogrande and Gibraltar. The town dates back to Roman times and the Manilva area encompasses not just the traditional whitewashed Manilva village which is just slightly inland, but also the small fishing village of El Castillo, the port of Duquesa, which is close to El Castillo and the town of Sabanillas, the area's main commercial centre with a wide variety of facilities. The beaches in this area are some of the best on the Costa del Sol and recent development hasn't detracted from its intrinsic Spanish character. Manilva's economy is still based around agriculture and fishing and it's famous for its desert grapes, which are claimed by some to be the best in Spain. Perhaps because of its simple and unpretentious nature and the fact that it's set some 3km back in the hills above the main road, Manilva is sometimes overlooked by tourists. However, during the last few years tourism has gradually become an important part of the area's economy. Those who don't dash past Manilva on the way to somewhere else are well-rewarded and often end up returning again and again, while some never leave.
Healthy, wealthy and wise in Manilva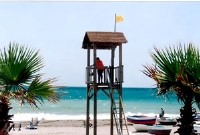 Manilva has a relatively small resident community of less than 20,000 which grows to around 35,000 when tourists and second-home owners arrive to enjoy the laid-back warmer months and make the most of what the area has to offer. It's become a popular spot for foreign residents who live and work nearby and in Gibraltar, mainly thanks to the area's versatility. It's one of the most traditionally Spanish areas on the coast and its development is restrained, improving infrastructure and facilities without spoiling its unique character. There's an excellent range of services in Sabinillas, which is now a thriving commercial centre with plenty of shops of all kinds, banks, Spanish and international schools (the renowned Sotogrande International School is just a short drive away). There's also a large public health centre in Sabinillas and a brand new private hospital in nearby Estepona (Hospitén Estepona). Transport facilities are second to none, with Gibraltar airport just a short drive away and Málaga airport is within 45 minutes of Manilva. The main A-7 road goes right through Sabinillas and the motorway can be easily accessed within minutes, allowing fast travel to the rest of Spain, most people who visit Manilva arrange Manilva car hire as this is the easiest way to get around..
Stepping Out in Manilva
Manilva's different communities mean that there's something for everyone in the area. If you want traditional Spain you'll find that this area has plenty. Manilva Village is a picturesque Spanish white village, where life revolves around the magnificent vineyard which produces their famous Muscatel grapes. Every September, when the harvest (La Vendimia) comes in during the first week of September, the people of Manilva celebrate with a fiesta which includes traditional grape trampling and a first sampling of the grape juice. Don't miss it! El Castillo is also a place where tradition is important and the people continue much the same as they have done for years.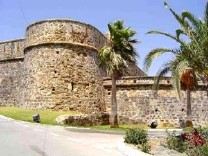 This little fishing village, which is built around an ancient Castle, still has its fisherman's cottages of old. If you have time to wander around the area, you'll find the best and least pretentious (not to mention the cheapest!) fish restaurants in the area. Very close to El Castillo, indeed just a short walk along the beach, you'll find the beautiful port of Duquesa, with its international restaurants and boutiques. The port provides a full marina service for enthusiastic sailors, not to mention plenty of alternatives for those who prefer to admire the boats from the safety of one of the wide variety of restaurants, intimate bars and small cafes dotted around the port. Roads leading away from the port take you to the hills of Duquesa and its golf course, the Duquesa Golf and Country Club. Golfers will relish playing on this 18-hole, Robert Trent Jones Sr.-designed course which has the most spectacular sea and mountain views. The club also offers range of further sporting possibilities. The commercial heart of the area, Sabinillas, was once a fishing village, just like El Castillo. It has grown over the years to become the hub of the Manilva area and is famous for its Sunday market (rastro), its unspoiled beaches and a beautiful new promenade which means that you can walk uninterrupted from Duquesa to Sabinillas.
Much may have changed in Manilva over the years, but the area has managed to embrace change without losing its inimitable character. The blend of old and new has been achieved successfully here. Property in Manilva is a popular choice thanks to be beautiful unspoilt beaches, the history and traditional feel of the area and the area's proximity to such excellent facilities.
Have a great week! Vamos!!
My best wishes and regards from sunny Marbella, southern Spain!!
JC Lazo